VIDEO: Accidente en juego mecánico deja al menos 16 heridos en India
5 de septiembre de 2022
Al menos 16 personas resultaron heridas en India por un accidente de un juego mecánico de una feria. Un accidente en un juego mecánico en India quedó grabado por una persona que se encontraba en una feria.
El hecho se registró en una feria comercial de Mohali donde al menos 16 personas resultaron heridas. En los videos se observa cuando la atracción, una rueda giratoria que sube varios metros, desciende rápidamente y se estrella en el suelo.
Según comentan internautas, una falla en la atracción no permitió que se activara correctamente el sistema de frenado.
La plataforma giratoria incluso rebota debido a la fuerza con la que se estrelló en la base. El golpe ocasionó que varias personas salieran expulsadas de sus asientos y sufrieran fuertes golpes.
Socorristas fueron requeridos al lugar para examinar a las personas y trasladar a centros asistenciales a quienes lo requerían.
Live Visual of swing breaking in #Mohali phase 8, Many people got injured. Around 16 women & kids were hospitalised after the incident. pic.twitter.com/bay5IfzHLB

— Nikhil Choudhary (@NikhilCh_) September 4, 2022
Las autoridades locales investigan las causas del accidente para determinar responsabilidades.
Fuente: prensalibre.com
---
Futbolista guatemalteco fallece en pleno partido en Mazatenango y revelan detalles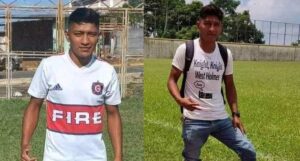 José Armando López Gonón de 22 años, murió mientras jugaba un partido de fútbol en un campo en cantón Salaché, zona 4 de Mazatenango.
Testigos afirman que López, estaba jugando cuando se desplomó en el campo, fue trasladado a bordo de un vehículo privado y luego transbordado a un ambulancia, sin embargo ya nada pudieron hacer ya que ya iba sin signos vitales.
Amigos que lo acompañaban indicaron que iba bien de salud, iba muy feliz sin embargo la muerte los sorprendió a todos cuando repentinamente cayó en el campo.
Para ver la nota completa dar clic en ENLACE