Wali el mejor francotirador del mundo afirma que noticieros rusos mintieron y está "VIVO"
22 de marzo de 2022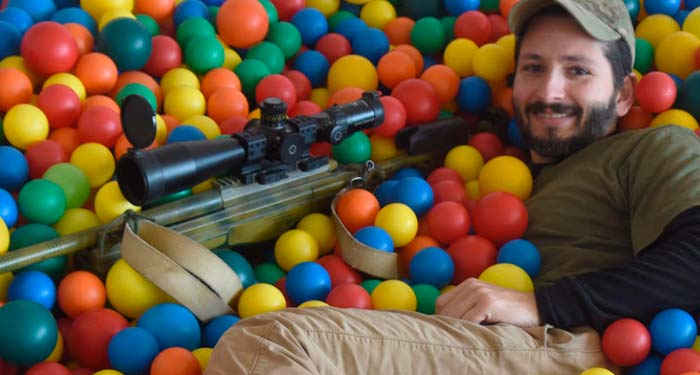 En los últimos días se rumoreaba que Wali había muerto durante un ataque del ejército ruso. Sin embargo, esta información fue desmentida por el francotirador.
El temido francotirador conocido como Wali confirmó que se encuentra vivo, después de que circularan noticias que anunciaban su supuesta muerte por un ataque del ejército ruso.
"Estoy vivo…Hemos ganado terreno al enemigo además de causarle pérdidas", aseguró Wali, el francotirador más temible del mundo que llegó a Ucrania para combatir contra los rusos.
El mismo Wali fue quien respondió a la pregunta de dónde se encontraba y aseguró que está en Ucrania, disparando a invasores rusos.
"Los rumores de que morí en combate han sido completamente ridículos", afirmó con una fotografía tomada en una piscina con pelotas de colores y publicada en las redes sociales.
Rumores sobre su muerte
En los últimos días surgieron rumores en relación a que el francontirador de origen canadiense conocido como Wali, había muerto después de un ataque de las tropas rusas.
La supuesta muerte fue confirmada por varios medios de comunicación rusos y aseguraban que el deceso había ocurrido cuando defendía la ciudad de Mariúpol.
Además, se decía que accidentalmente Wali habría revelado su ubicación al ejercito ruso. Pero esto fue desmentido por Oliver Lavigne-Ortiz (Wali), quien habló con La Presse, un medio de comunicación canadiense.
Wali de 40 años dejó su vida tranquila en Quebec para unirse a las tropas ucranianas y defender de la invasión rusa, que a pesar de los constantes ataques, se encuentra ileso.
Former Canadian Armed Forces sniper "Wali" says he was the last to learn of his own death in Ukraine. Spoke to him this am. He returned from battling Russian forces on the frontlines in the Kyiv region & learned about a Russian disinformation campaign declaring he was killed. pic.twitter.com/XTIbgemPGT

— Ashley Burke (@AshleyBurkeCBC) March 22, 2022
En medio de risas Wali dijo en una videoconferencia desde Ucrania: "Fui el último en enterarme de que estaba muerto".
Fuente: Soy502