Muestran el momento exacto de la erupción y tsunami en TONGA
16 de enero de 2022
Por
notiguate.com
0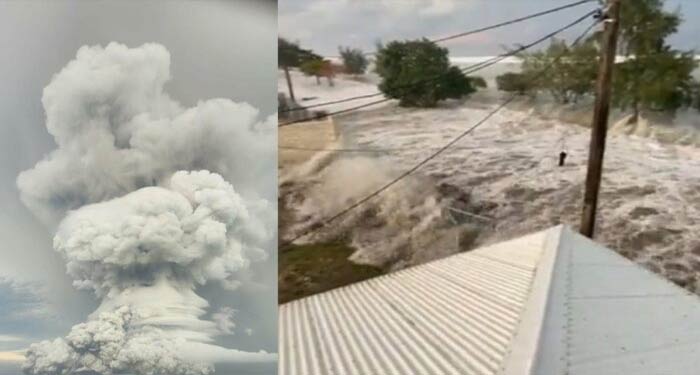 La erupción y tsunami que ocurrió en Tonga llegó a afectar a países que comparten el océano Pacífico.
Usuarios de redes sociales captaron el momento de ocurrir la erupción submarina del volcán Hunga-Tonga-Hunga-Ha'apai y el posterior Tsunami que golpeó Tonga.
Este país ubicado en Oceanía, fue sorprendido entre el viernes y sábado por la erupción ubicada a unos 65 kilómetros al norte de Nukualofa, mientras que el tsunami fue de 1,2 metros, según informó la Oficina de Meteorología de Australia.
#Tonga 🇹🇴🌋

Entre vapor de agua, rayos y flujos piroclásticos, esta fue la pesadilla que se vivió en las cercanías del volcán #HungaTongaHungaHaapai después de su gigantesca erupción de ayer. pic.twitter.com/fvRuOYM1YY

— Alejandro S. Méndez ⚒️ (@asalmendez) January 14, 2022
Los primeros videos que circulan son sobre la humareda que siguió a la explosión submarina.
Tsunami videos out of Tonga 🇹🇴 this afternoon following the Volcano Eruption. pic.twitter.com/JTIcEdbpGe

— Jese Tuisinu (@JTuisinu) January 15, 2022
Según se explican, la explosión del Hunga-Tonga-Hunga-Ha'apai llegó a ser escuchada hasta Fiyi, un país que se encuentra a 800 kilómetros de distancia.
Fuente: chapintv.com