Hombre acróbata sufrió una caída en la cuerda floja durante presentación (VIDEO)
27 de diciembre de 2021
Por
notiguate.com
Desactivado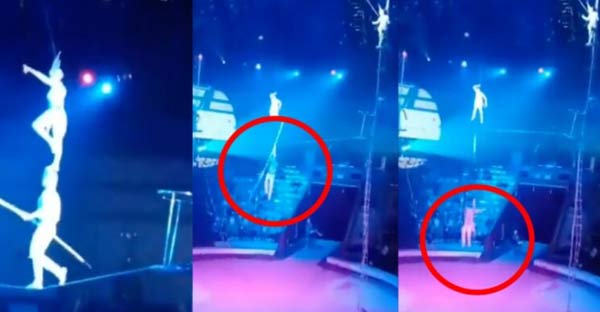 Acróbata de Rusia sufrió caída desde la cuerda floja mientras realizaba una presentación.
Asistentes a un espectáculo de acrobacias en la ciudad de Tiumén en Rusia, captaron en video el momento en el que un funambulista cayó de la cuerda floja mientras realizaba su presentación.
En las imágenes compartidas en redes sociales, se observa el momento en el que el hombre comienza a recorrer la cuerda con otra acróbata sobre los hombros. Y cuando se encontraba a mitad de su recorrido, el circense perdió el equilibrio y terminó cayendo al vacío.
Lo único que evitó que la acróbata que iba en hombros del accidentado cayera al suelo fue el equipo de seguridad y que consiguió equilibrio en la cuerda.
A circus performance in the city of Tyumen in Russia's Siberia went terribly wrong after a ropewalker lost his balance and fell on the ring from a significant height#Russia #circus #ropewalker #siberia #tyumen #Russian pic.twitter.com/xzvniewbXh

— 5 News Australia (@5NewsAustralia) December 27, 2021
El acróbata logró amortiguar la caída gracias a la que la barra de equilibrio se atoró con la cuerda por la que caminaba.
Fuente: chapintv.com